eCard Features and Pricing
Home
> eCard Features & Pricing
Last Updated: 08.03.2020
---
CURRENT EARLY BIRD DISCOUNTS




Get

25% OFF

All Online Semi-Custom Holiday e-Card Orders now from our
Holiday Collection

for a limited time with Promo Code

EB25OFF2020




---



CORPORATE HOLIDAY E-CARD / VIDEO PRICING & OPTIONS
All prices below are in USD and are subject to change without notice.
NEW Flat Rate Pricing

for Semi-Custom Animated Holiday e-Card Videos from our Online Collection for the 2020 Holiday Season. We will also be adding Animated .Gif Holiday eCards as another option to our Collection this year.

Base Fees & Project Types Available: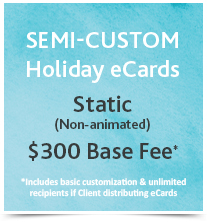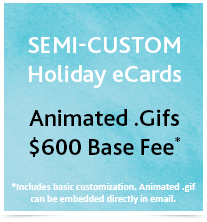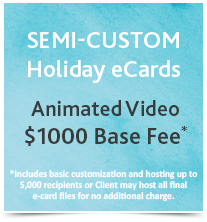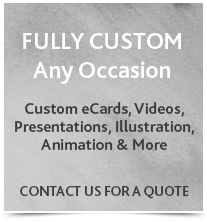 Base Fees Include:

For Semi-Custom Holiday Electronic Greeting Cards - Animated eCard Video Format
Your preferred greeting/text within the eCard

(Any of the text in the card can be changed to your preferred wording)

Your company logo

(In place of WebbyCards logo. Position or location of logo can be changed)

Your choice of music

(For animated e-card videos, includes the current song or choose another song from our

Online Music library

.)




Clickable thumbnail image of your eCard for your eMail

A HTML holding page for your eCard

(For animated e-card videos, the URL hosted on WebbyCards.com server unless *Client hosts)

PC & Mobile Friendly eCard

(Animated eCards will play on majority of browsers and devices)

Link to your website

Social network links

[

Links to your preferred social network pages (optional)]

Add an Animated Envelope Intro with your Company Logo

(Optional - For Animated eCard Video Formats - No additional charge)

Temporary Hosting of e-card for 11 months

(For Animated e-Card Videos: Base Fees include hosting for up to 5K recipients. Additional recipients available for additional fees or *Client may host all final e-card files with an alternate video player for no recipient limits)




Client to handle email distribution of the eCards from your preferred eMail system

(

eCard delivery service is available for an additional fee)

No WebbyCards logo or branding

will be included in the eCard.

(Only WebbyCards copyright info will be displayed discretely on the html holding page.)

Base Fee includes up to 2 rounds of revisions

(Additional rounds of change requests may require an additional fee.)
*Client Host: Clients will embed the Static e-cards (jpg, png or gif) and Animated .Gif eCards (.gif) directly into the body of your e-mail template. There will be no external hosting component needed. For Animated eCard Video types, WebbyCards will host all final e-card video files using our preferred player for up to 5K recipients included in the base fees, or Client may choose to host all final e-card video files with your preferred player at no additional charge for unlimited recipients. (For our animated e-cards this typically includes a .mp4 video file, html holding page and thumbnail image for your e-mail template), please contact us if you have any questions.
Texas Resident Sales Taxes:
Clients who reside in Texas will be charged sales tax at 8.25% during checkout.All prices subject to change without notice.
---
Early Bird Pricing
Early Bird Price Discounts are typically offered for all Semi-Custom Holiday eCard orders through our website between August 1- Mid October. Holiday Rush fees may be automatically applied to orders received in December depending on the current production schedule and availability. Our production schedule fills quickly during the busy holiday season so we recommend placing your order with us as early as possible to secure your spot on our limited holiday e-card production schedule. Note: If you need your project turned around quicker, we do offer RUSH service for an additional fee.

Click here
to subscribe to our e-mail list to receive the latest updates and discount promotions like our Early Bird Pricing for Holiday eCards. We do not share your e-mail with anyone and will not overload your inbox.
---
CUSTOMIZATION OPTIONS & ADD-ON SERVICES
ADD-ON/FEATURE DESCRIPTION

FEE

EXAMPLES / LINKS


Your choice of music from our Music Library (For Animated e-Card Videos)
Replace current song in selected eCard with another song from our music library or we can remove the music completely if desired.
View our music library
No additional charge

View Music Library


---

Add Basic Animated Envelope Intro (For Animated e-Card Videos)
If you would prefer that your animated e-card open up out of an envelope, we can add an envelope opening animation to the beginning of the e-card of your choice for no additional charge. Select the option to include basic envelope intro when you place your order if you would like to include the animated envelope. Includes your logo on a white envelope. Logo can be placed on the flap or on the base of the envelope. A custom envelope can also be created for an additional fee upon request.
No additional charge (Optional Add-On)

View example



---

Digital Signatures
Please provide your signatures written in a thick black ink pen or marker on a white piece of paper or background in .pdf, .jpg, .gif, .png, .psd or .eps format. We will convert the signatures to a digital format and modify the color of the signatures as needed to display properly within the eCard. If you have a preference for placement/order of the signatures, please provide instructions in the comment box when ordering.
$25
per signature

---



Basic Analytics Access to view your eCard Stats (For Animated e-Card Videos)
Online login access to view # of eCard plays, # of visitors, % play rate, # of hours watch and % ave. engagement from viewers



$100


---




Change Photo/s


Replace existing photos in eCard with new Client Supplied images or stock. This option is available for any of our eCards which currently include photos in them. If you would like to replace the current photos used in the e-card with new photos, please select this option. Client to provide new images in .jpg format. Price is based on replacing the same number of photos that are currently in the e-card template with new photos. If additional photos within the e-card need to be added or removed please contact us with any questions and to confirm the cost.

$250 Flat Fee Animated eCard Videos /

$50 Flat Fee for non-animated eCards / Static






---





Add Additional Page/Scenes to Animated eCard (For Animated e-Card Videos)
If you need an additional page/scene added to the animated e-card we can add a new page to the e-card at the opening, middle or at the end. If you need a clickable link within the animated e-card we can include a clickable page at the end of the e-card animation to link to 1 designated url. Contact us for more information.

$250 per additional page/scene


---





eCard/eMail Distribution Service

(One Time / One Event Type)


Distribution fee includes cleaning up the e-mail distribution list using Neverbounce to remove any invalid e-mails (If you have not cleaned your email list), formatting and importing of valid email recipients to our system, HTML e-mail template, access to e-mail tracking info (emails sent and read) and distribution on the Client's designated delivery date once the eCard has been approved. Base Distribution Set-up fee is based on 1 master list / 1 sender. If additional lists or alternate senders are needed, please contact us for a quote as we do offer discounted pricing for multiple lists/senders or large quantities.

Note:

We do not share any of our client's e-mail lists or addresses with anyone.

$350 Set-up + $.10 per eMail recipient

Contact Us if you have multiple lists or senders for a Quote






---






Custom Color Changes / Advanced Customization


Contact us if any major color changes are needed to any of the current graphics, background, or font colors. We can modify the e-cards to match your company branding or preferred color scheme. If any font changes are needed we can make any font changes or color changes to any of the current wording. Structure modifications and/or pacing adjustments can also be made to the e-Card. Most of the e-cards are very flexible on how they can be customized to match your company branding requirements. Basic color changes may be made to most cards without any additional charge. Any major color changes may require an additional customization fee. Contact Us with your requirements or with any questions.
Contact Us




---

Additional Versions of eCard



Same eCard Design in Same Target Language (English)
May include alternate message, different logo, or include alternate signatures. Ideal for customers who need to send the eCards from different departments, internal and external distribution versions or from an alternate sender. [Note: Price is for same photos in all additional versions. If photo changes are needed in multiple versions, please adjust the QTY box for 'Change Photos' option accordingly when ordering]





Same eCard Design with New Target Language Needed (Other than English)


Additional versions in new target languages (i.e. Spanish, French, Chinese, etc) are available for an additional fee. Client to supply all translated copy.

Animated eCard Video Types:

$500 - $750 for each additional version




Static eCard Types:


$150 - $250 each for each additional version



Example links:


Version 1 >>
Version 2 >>





---

Automatic eCard Sender

Service for

Recurring Events - i.e. Corporate Birthdays, Anniversaries & More


Our system can send professionally designed eCards automatically to your employees, customers, colleagues or friends to show your appreciation on their birthdays, anniversaries, or other key dates. We can customize any of our existing animated or non-animated e-cards or can create a fully custom e-card based on your specifications.
View Our Corporate Birthday eCards >>

View Pricing & Options


Learn more





---

RUSH SERVICE FEE

For Quicker Turnaround Service Required within 72 hours for semi-custom electronic holiday greeting card orders and within 48 hours for semi-custom static e-card orders. Any change requests will be made within 24 business hours.

+$150 for Semi-Custom Non-Animated e-Card Orders /

+$250 for Semi-Custom Animated e-Cards

---

Client Branded eCard Sending System
Ideal for clients who have a smaller distribution list or would like to provide employees or reps with access to a personalized e-card sending portal to easily share your customized e-card with up to 10 recipients at a time. We will create a company branded e-card sending portal including a login page (1 unique username and password provided) and client branded eCard sending page to allow those you provide access to the portal to send the e-card with a personal message included in the body of the e-mail with a thumbnail image of the e-card and link to view the e-card in the user's default browser. Contact us for login access to view the demo or if you have any questions.



Example Screenshot of the e-Card sending portal page below:




Request a Quote
---
FULLY CUSTOM CORPORATE HOLIDAY ECARDS / VIDEOS & MULTIMEDIA PROJECTS
WebbyCards can create fully custom e-cards in any preferred style for any occasion including Thanksgiving, Christmas, New Years, Memorial Day, Independence Day, Labor Day, Veteran's Day, Corporate Birthdays, Anniversaries, Event Invitations and more.

We can create animated .gifs, custom eCards, Videos, custom illustration, 2d and 3d animation, multimedia presentations, motion graphics, games, apps and more. If you already have a storyboard or design, we can help bring your project to life with animation, sounds, music and/or narration. Contact us with your project requirements and we can provide you with an estimate for your next project.
---
Additional customization options are available upon request:
Alternate Language Versions, Alternate eCard File/Player formats, eCard Design for Printed Cards, More Advanced Customization & Rebranding, and more. Most of our semi-custom eCards are very flexible in how they can be modified to fit the client's preferences and needs. Contact us with any questions.
---
Don't need an animated eCard?
Non-Animated (Static) eCards for eMail are available

View our current Non-Animated Corporate Holiday eCards in our catalog
here >>
. We can create a non-animated eCard version from any of the base eCard designs from our catalog with Client's message, logo and any other customization needed. If you prefer a fully custom designed non-animated eCard for your e-mail, please
Contact Us
with your project requirements for an estimate.
---
Payment Options:
All major credit cards are accepted through our website for our Semi-Custom eCard orders from our catalog (Visa, Mastercard, Discover and AMEX), PayPal or provide a Purchase Order # if a check or wire transfer is the preferred method of payment. International Customers who would like to pay by credit card must choose the 'Check out with PayPal' option or provide a purchase order # if an alternate method of payment is preferred. Contact Us with any questions.

Texas State Sales Tax of 8.25% will be applied automatically to all orders from clients who are located in Texas.